About Ur Plumber
Ur Plumber is your dependable expert for Gas and Plumbing services across Hamilton and the wider Waikato region.
Ur Plumber is a locally owned and operated business providing Gas and Plumbing services to residential and commercial customers in Hamilton and across the wider Waikato region. Owner Chad Still gained experience running his own plumbing company in Hawke's Bay before starting Ur Plumber when he moved to Hamilton for family.
Our team of professionals take on all jobs, big or small, and believe in providing excellent service, completing projects efficiently and on schedule, and building lasting relationships with our clients. Take a look at our gallery to see some examples of our work.
If you need an emergency local Plumber, or would like to book Gas and Plumbing services, contact our friendly team.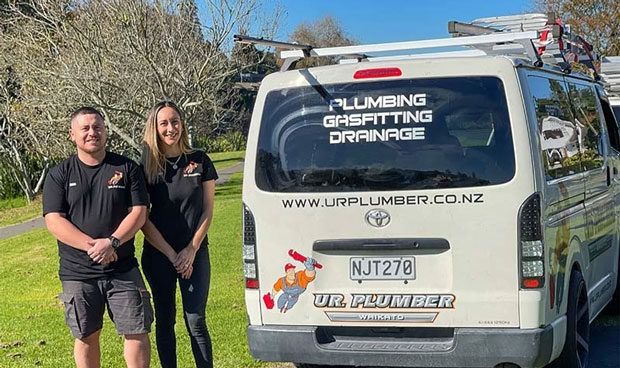 Our Plumbing Services
Ur Plumber offers a full range of Plumbing, Gasfitting, and Drainlaying services.
From bathroom renovations to emergency plumber call outs, Ur Plumber offers you a one-stop-shop for Plumbing, Gas, and Drainage services. Our experienced team provides outstanding service and quality workmanship with services that include:
Plumbing
Our qualified Plumbers handle all aspects of residential and commercial Plumbing, including emergency Plumbing, leaking pipes, bathroom and kitchen renovations with full project management, water filtration, and hot water cylinder repairs and replacements.
Gasfitting
As certifying Gasfitters, our team takes care of Gas hot water system installations and conversions, installation and servicing of Gas heating and fireplaces, testing for Gas leaks, and repairs, installation, and maintenance of Gas appliances.
Drainlaying
Ur Plumber provides service for Drainage systems in homes and businesses. We offer Drain inspection, assessment, and blockage clearing, as well as installation, repair, and maintenance of water pumps, septic tanks, wastewater systems, water tanks, and channel breaks.
Why Ur Plumber?
Five reasons to choose Ur Plumber for your Plumbing and Gasfitting needs.
When you choose the friendly, experienced team at Ur Plumber for your Gas and Plumbing services, you get:
Affordable prices – Our business offers Plumbing and Gasfitting services to our clients at competitive prices. When doing renovations, we work with you to help find the solution that best fits your budget.
A quick response – We offer prompt, reliable service and turn up when we say we will. Our team has the flexibility to do what is needed to get your job done as fast as possible.
High quality work and professionalism – At Ur Plumber, we place great importance on delivering a high standard of work in a friendly and professional manner, and always strive to do the best job possible. All Gas services come with a Gas Compliance Safety Certificate to ensure that all Gas services have been checked and are safe.
Great communication and customer service – Our team always strives to provide excellent customer communication, ensuring our customers are happy with everything, and maintaining a good business relationship.
A community-minded business – Our company believes in giving back to the community we work with, and enjoys spending time helping out the local church community.
Excellent company to deal with. Simple job required (disconnect of gas oven) and was carried out in prompt and friendly way. Also received very professional and knowledgeable plumbing advice for renovation project. Fair pricing. I thoroughly recommend UR plumber.
A±+++ Amazing service came and fixed our problem and within the costs quoted. very friendly and we will definitely be using UR Plumber from now on.
Thank you Chad & team excellent service, affordable, excellent communication. Ur plumber is Definitely my go to for all my plumbing and Gas needs. Very happy with our new Rinnai gas heater.
Ur Plumber Waikato provided a great service - I highly recommend them. Professional, friendly, gets the job done, no worries!
Thankyou for the dishwasher installation. Great communication and very good work. Nice and friendly team. Thankyou again to the guys at Ur Plumber.
Quick to reply, quick to do the job. friendly and helpful staff who gave me multiple options. great workmanship.
Get Quote
If you need an emergency local Plumber, or would like to book Gas, Plumbing and Roofing services, contact our friendly team.